General Information
GENERAL INFORMATION
General Info
Name: ICF CANOE SLALOM WORLD CUP 2018
Date: 21st - 24th June 2018
Place: Canoe Slalom Venue, Liptovský Mikuláš, Slovakia
Organizers:
International canoe federation
Slovak canoeing
Organizing Committee
Events
Individual C1M, C1W, K1M, C2M, K1W
Cross K1M, K1W
Course
Course: Váh (left)
Length: 250 m
Drop: 7.5 m
Flow: 12 – 15 m3
Difficulty: WW 3-4
Entries
Numerical Entries
Numerical entries should be sent to organizing committee by email or fax on dedicated form.
Email: office@canoeliptov.sk
Fax: +421 44 552 02 17
Deadline:
Nominal Entries
will be enabled only via ICF on-line system available at ISIS system (http://www.canoeicf.com/icf/Misc/ISIS.html)
Deadline:
Accreditation
Accreditation will be enabled only via ICF on-line system available at ISIS system (http://www.canoeicf.com/icf/Misc/ISIS.html)
Participation Fee / Access Period
The Participation fee of 105 EUR will be charged per each athlete and team officials for the Access Period, from 09 May till 15 May 2016
Participation fee has to be paid in advance by 05 May 2016 via the bank transfer to make the accreditation more convenient. At the venue no credit or debet cards will be accepted, payment will be possible in cash only.
Bank transfer details
Bank name: Slovenská sporiteľňa a. s., Liptovský Mikuláš
Account number: 56712226/0900
IBAN: SK48 0900 0000 0000 5671 2226
BIC: GIBASKBX
Address: Kanoe Tatra Klub, Nabrezie J. Krala 8, 031 01 Liptovsky Mikulas
Media and Press
Please contact us for more info at our email office@canoeliptov.sk
Trainings
For trainings in April - June please contact us at least 2 weeks before your arrival. The training fee is 8 EUR / per boat / per hour.
Official Trainings
Official trainings are free of charge.
Accommodation
City of Liptovsky Mikuláš and region of Liptov offers wide variety of accommodation from 5 star hotels to private pensions. OC is ready to assist you with bookings according your needs. Please contact us at office@canoeliptov.sk
Transport / Location of airports, rail network and roads
Slovakia is in the middle of Central Europe, so it's easy to access from all directions. Liptovsky Mikuláš has highway and railway connection to Bratislava, the Capital city of Slovak republic, which is very close to Austria, Czech republic and Hungary.
Arriving by plane
These airports are connected to all world major destinations:
Bratislava www.bts.aero
Krakow www.krakowairport.pl
Vienna www.viennaairport.com
Prague www.prg.aero
Budapest www.bud.hu
Košice www.airportkosice.sk
Brno www.brno-airport.cz
Poprad www.airport-poprad.sk
Poprad Airport - 54km - 35min drive
Košice Airport - 182km - 2 hours drive
Bratislava Airport – 276 km – 3 hours drive
Krakow Airport – 173 km – 3 hours drive
Vienna Airport – 344 km – 3.5 hours drive
Brno Airport – 292 km – 3.5 hours drive
Budapest Airport – 375 km – 4 hours drive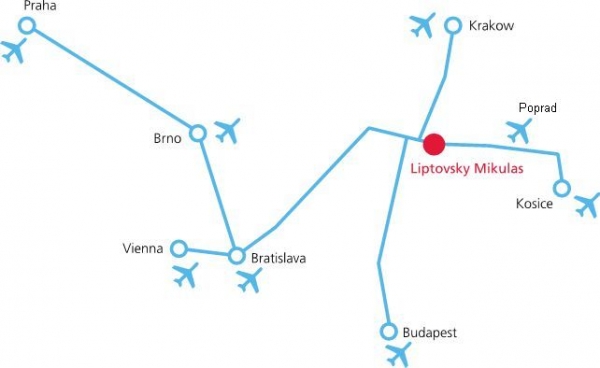 Arriving by car
Liptovsky Mikuláš is well connected to main Europe transit lines by highway D1 - E50 in both, east and west, directions.
Arriving by train
Liptovsky Mikuláš is situated on main Slovak railway connection between two biggest cities Bratislava and Kosice. Fast trains are arriving every two hours.
Visa
Slovakia is member-state of the European Union. The Slovak embassy in your country will provide you with all detailed information about visas. You will find details on the website of the Ministry of Foreign Affairs of the Slovak Republic at http://www.foreign.gov.sk/web/sk
Slovak Canoe Association will assist in processing Immigration visa applications for all participants of the Championships. For this service please contact us at jezikova@canoeslalom.sk
Medical Insurance
Organizing Committee kindly asks all participants of the Championships to ensure medical insurance policy in their countries. All costs above the regular first aid, ambulance and physiotherapeutic services are to be covered by this medical insurance policy.
Doping control
Doping control will be performed in accordance to the ICF Anti-doping requirements and WADA standards.
First aid
Emergency medical services will be located close to main tribune. This medical service will cover only emergency cases and that all participants are responsible to arrange, at their cost, their own medical insurance policy.
Water safety
Rescuing in competition area during the competition days will be organized.
Official Technical Video Service
During the competition days technical video signal will be provided to team's area.
Contact us
Email: office@canoeliptov.sk
Telephone, Fax: +421 44 552 02 17
Address: Kanoe Tatra klub, Nábrežie Janka Kráľa 8, 031 01 Liptovský Mikuláš, Slovakia